This MOOC is developed within the project ELIC – Engineering Literacy Online – Teachers as a Medium for Change (Erasmus+ Strategic Partnership, Austrian National Agency (ÖAD) is the funding authority Grant Agreement Number: 2017-1-AT01-KA201-035034).
Legal notice/information in accordance with Sec. 5 Austrian E-Commerce Act (ECG), Sec. 14 Austrian Commercial Code (UGB), Sec. 24 Austrian Media Act, Sec. 29 Austrian Audio-visual Media Services Act (AMD-G) and disclosure in accordance with Sec. 25 Austrian Media Act. The website and its contents were created with due diligence and by the author's best knowledge. Nonetheless we disclaim any liability or warranty as far as permitted by mandatory law and shall only be liable to the extent foreseeable. Especially no claims may be asserted based on the content provided by the MOOC-activities and seminars and the application of the gained knowledge. For content provided by third parties and hosted on our site (e.g. comments etc.) we only shall be liable according to §§ 16 and 18 (1) ECG. The contents of third party websites on which we are linking are beyond our responsibility. We are not adopting them as our own content and thus are not accountable. On the time of publishing, we did not have any knowledge of illegal activities or contents on these websites. If knowledge of illegal contents on these linked websites is received, the according links shall be deleted. We reserve the right to change and/or delete any contents and parts

The content of the webpage, MOOCs, etc. only reflect the respective authors 'views. The Education, Audio-visual and Culture Executive Agency and the European Commission are not responsible for any use that may be made of the information the website, MOOCs, etc. contain.

Media owner:
FH JOANNEUM Gesellschaft mbH
Alte Poststrasse 149
A-8020 Graz
Tel.: +43 (0)316 5453-0
E-mail: info@fh-joanneum.at

Further information about FH JOANNEUM Gesellschaft mbH can be found in its imprint.

Creative Commons License: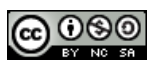 Unless otherwise noted, this work or its content is licensed under a Creative Commons AttributionNonCommercial-ShareAlike 4.0 International License.
That means you are free to:
copy and redistribute the material in any medium or format (share)
remix, transform, and build upon the material (adapt)
Under the following terms:
You must give appropriate credit, provide a link to the license, and indicate if changes were made. (Attribution)
You may not use the material for commercial purposes. (Non-commercial)
If you remix, transform, or build upon the material, you must distribute your contributions under the same license as the original. (Share Alike)
Privacy and Data Protection
With its online platform – ELIC-MOOC – the Erasmus+ Strategic Partnership ELIC (Engineering Literacy Online – Teacher as a medium for change) offers you the possibility to take part in free online courses on engineering-related topics and to engage in the project. As a registered user you have access to the course content (videos, quizzes, reading material) and, if you want to, you may receive a certificate after a successfully completed final exam. Moreover, for the duration of the course the discussion forum is available for your questions and interactions with other learners.
When conducting online courses, the collection and storage of personal data is unavoidable. The protection of your data and the lawful collection, processing, and use of it is therefore a matter of particular concern to us. We would to further inform you about the main issues related to the data protection:
Collection and storage of personal data. ELIC-MOOC will store your name, email address and the respective profile data and content that you provide in the course of the MOOC and the participation of the project, i.e. gender, date of birth, employer or university, city, country test results, forum contributions etc. (your "Personal Data") until December 2020, if there are no other obligations to the funding agency. You may withdraw your consent to process your Personal Data at any time (see below Rights).
Why is the provision of Personal Data required? ELIC-MOOC requires your personal data to enable you to attend the ELIC MOOC and if you want to, to provide a certificate. The provision of this information is based on your consent and voluntarily. You are not obliged to provide the personal data. However, without provisioning it, it will unfortunately not be possible for you to attend the ELIC-MOOC.
Rights: You have the right to:

Request access to your personal data;
Request correction or deletion of your personal data;
Object to our use and processing of your personal data;
Request that we limit our use and processing of your personal data; and
Request portability of your personal data.
You may withdraw your consent to process your Personal Data at any time. Once you assert this right, we will not process your Personal Data any longer unless legally required to do so. However, any withdrawal has no effect on past processing up to the point in time of your withdrawal.
Who receives the data?


The following categories of recipients receive your data:
Other learners, if you participate in the discussion forum
If you want a certificate for participation, the certification provider

You can usually access, correct, or delete your personal data using your account settings and tools that we offer, but if you aren't able to do that, or you would like to contact us about one of the other rights contact datenschutz@fh-joanneum.at.
You also have the right to make a complaint to a government supervisory authority. In case of FH JOANNEUM Gesellschaft mbH this is Österreichische Datenschutzbehörde, Wickenburggasse 8, 1080 Vienna, Austria, T: +43 1 52 152-0, E-Mail: dsb@dsb.gv.at